With the Commercial Vehicle Safety Alliance's (CVSA) International Roadcheck set for May 16-18, the 72-hour commercial vehicle inspection blitz will be set upon the industry ready or not
Each year, the CVSA sets categories of focus for roadside inspections during this annual high-volume, high-visibility event. This year, law enforcement officials will be taking an extra careful look at anti-lock braking systems (ABS) and cargo securement as they primarily conduct the 37-step North American Standard Level I Inspections.
As part of our commitment to our customers and the industry at large, we want to help you avoid costly fines and out-of-service violations with a free webinar. On April 25, at 11:00 AM (Eastern), Aim Safety Manager and expert John Rugarber will cover everything you need to k now to make sure you and your drivers ace your next roadside inspection. Click this link to register! All registrants will receive a recording of the webinar, so if you can't make it, we strongly encourage you to register anyway.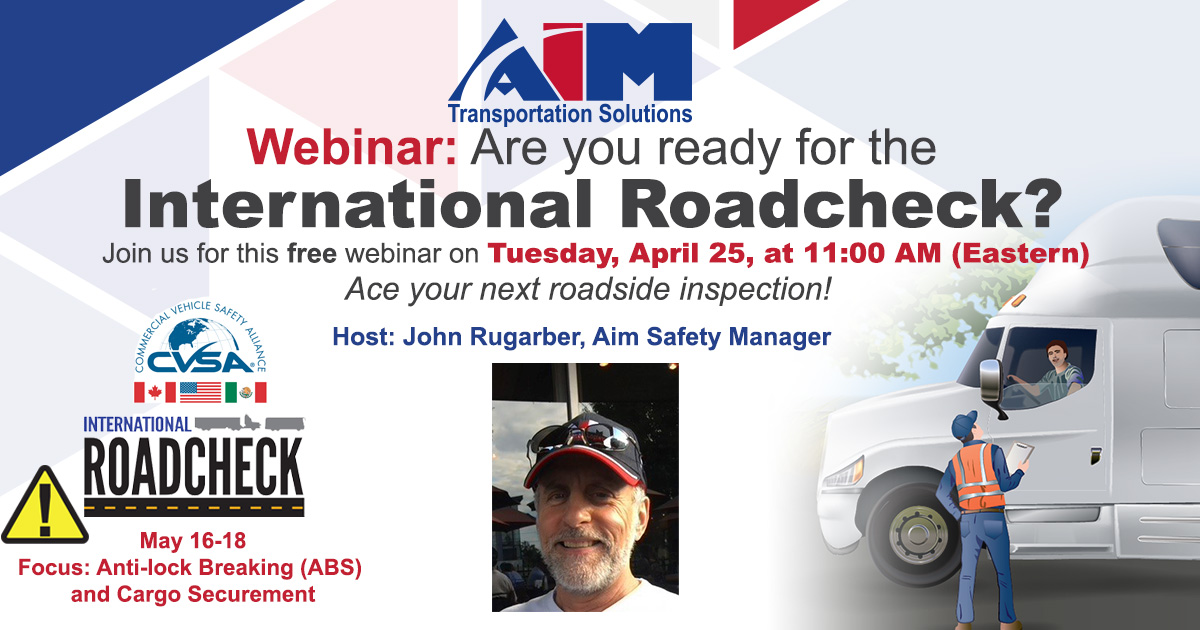 Here's a quick inspection rundown: officers will ensure a vehicle's brake systems, cargo securement, coupling devices, driveline/driveshaft components, driver's seat, exhaust systems, frames, fuel systems, lighting devices, steering mechanisms, suspensions, tires, van and open-top trailer bodies, wheels, rims, hubs and windshield wipers are compliant with regulations.
While ABS violations are not out-of-service violations, the anti-lock braking system plays a vital role in preventing collisions. Properly function ABS prevents wheels from lock up or skidding, allowing a driver to maintain better control of the vehicle while stopping, particularly in emergency situations.
Improper or inadequate cargo securement accounted for 10.6% of all vehicle out-of-service violations during last year's Roadcheck, past events have routinely found this violation in the top five out-of-service violations.
As a reminder, the basics drivers should be prepared to show inspectors are:
Commercial driver's license
Medical certificates
Bill of lading, hazmat information (if necessary) and any other required load-related documentation
Roadside view ready ELD
Proof of periodic inspections
Vehicles passing inspection without critical vehicle violations should receive a CVSA decal. Typically, CVSA decals are valid for three months, during which the vehicle won't be re-inspected. Instead, officials prioritize their efforts on vehicles without decals. That, however, doesn't mean a vehicle with a CVSA decal is immune to further inspections. As always, it's vital to stay compliant and safe to avoid injury and operational disruptions.
Aim customers can always contact their local Aim representative with any safety- or compliance-related questions or concerns, and don't forget to sign up for our free webinar.