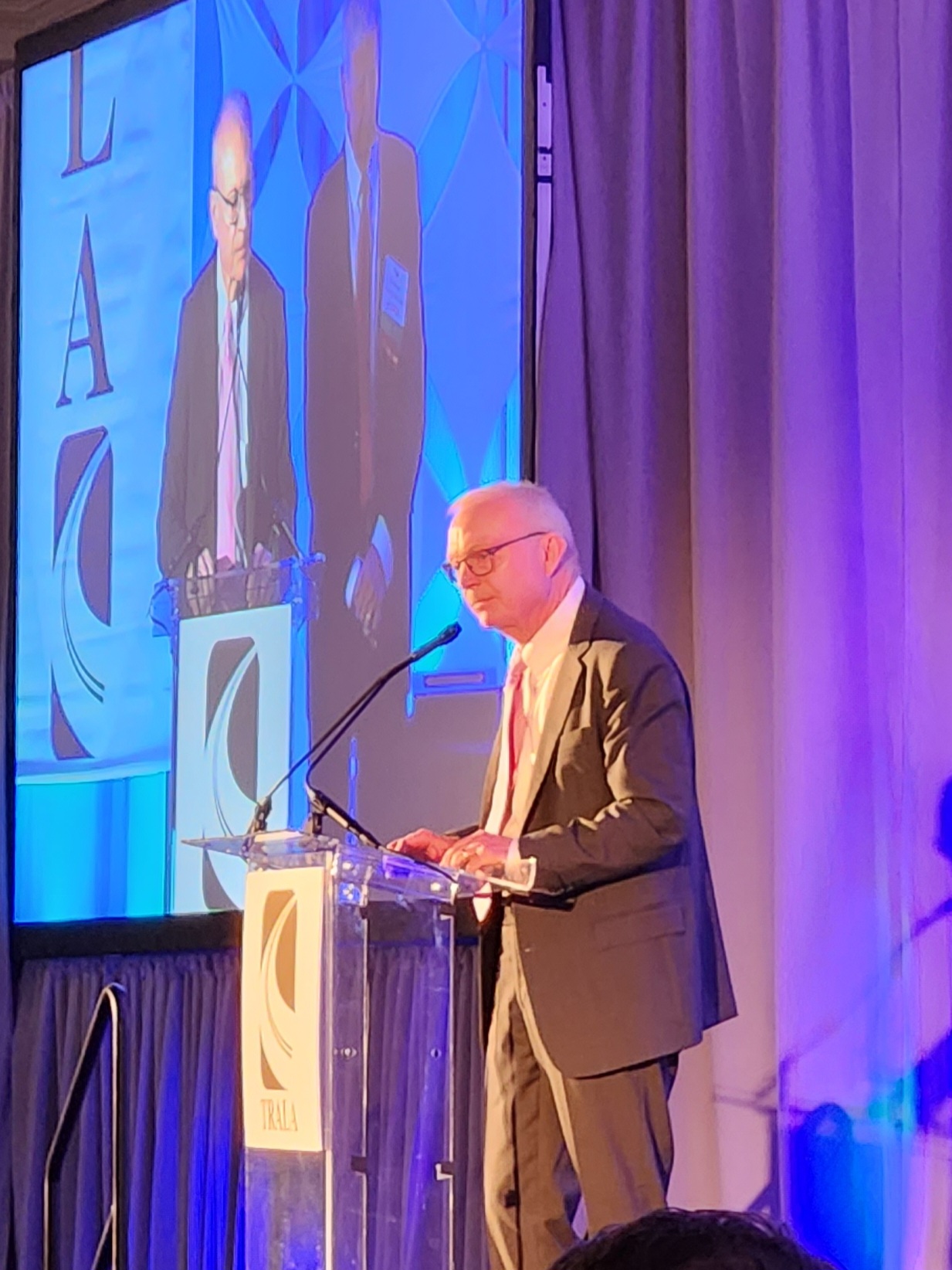 Aim Transportation Solutions isn't just a fleet solutions provider. It's a legacy. It's a legacy built more than 40 years ago by a natural leader, industry innovator and dedicated humanitarian: Tom Fleming, Aim Founder, Chairman and CEO.
For his enduring, influential contributions to the industry, Tom Fleming was recently awarded the Truck Renting and Leasing Association's (TRALA) Steve Lawrence Legacy Award. This prestigious award recognizes individuals who have made significant, long-lasting impacts on TRALA and the industry as a whole.
Tom founded Aim in 1982, but the company's lineage actually dates back further than that—120 years further. In 1903, Tom's grandfather, J.V. McNicholas, began hauling meat and luggage from rail yards in Youngstown, OH, using a horse and buggy. In just a few short years, his modest enterprise grew into a full-fledged hauling business.
Fast forward almost 80 years, after deregulation in 1980, McNicholas Transportation branched into leasing trucks. Tom Fleming managed this division, known as Aim NationaLease, and their 25 trucks. Two years later, Mr. Fleming purchased the leasing division and moved it to 1500 Trumbull Avenue in Girard, OH, where it still stands today as Aim's headquarters.
Over the last 40-plus years, Mr. Fleming created something wholly unique: One of the nation's largest privately owned truck leasing companies with the feel and care of a small, family-owned business. It's this extraordinary vision that has differentiated, sustained and grown Aim from those beginning 25 trucks to a comprehensive truck and transportation solutions provider—offering full-service leasing, rentals, integrated logistics, maintenance and repair services, freight brokerage and used truck sales—with a fleet of more than 11,000 vehicles serviced out of locations scattered across the U.S.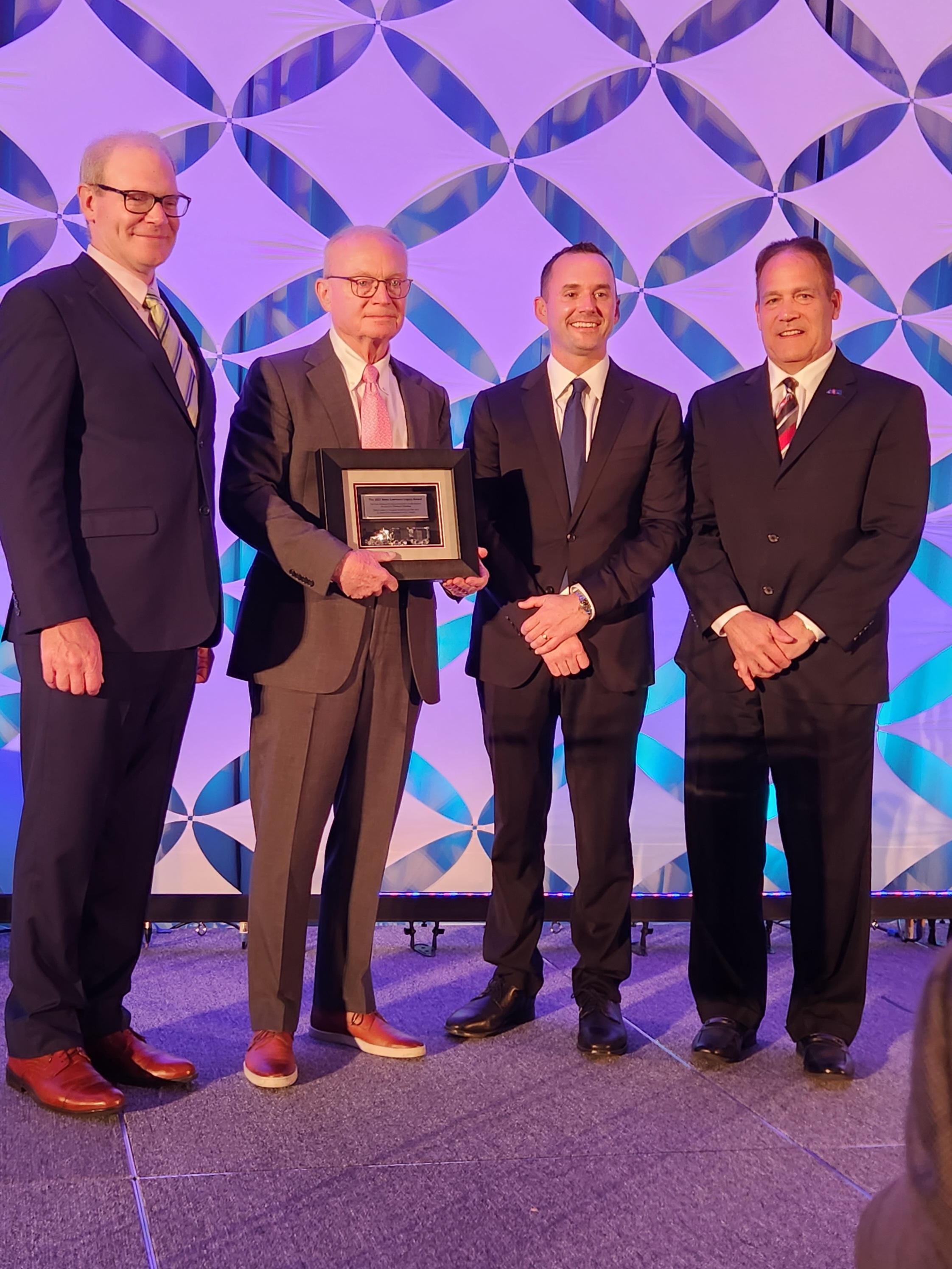 Pictured from Aim (l-r): Dan Fleming, Vice President of Sales Operations; Tom Fleming, Chairman & CEO; Geoff Fleming, Co-President; and Matt Svancara, Executive Vice President of Sales & Marketing.
Succeeding and carrying on his vision, Mr. Fleming's sons, Co-Presidents Scott and Geoff Fleming, run the company alongside their dad.
"It's no surprise our father received this award," said Scott Fleming. "All his impacts on the industry have helped shape what it is today, and it truly is a joy to see his success honored with such a prestigious award."
"The company our father has built and his influence on the industry are nothing short of remarkable," said Geoff Fleming, "and it was an incredible honor to see our dad recognized for this with TRALA's Steve Lawrence Legacy Award."
For about as long as Aim has been around, Tom and his company have been proud members of TRALA. TRALA is a non-profit national trade association comprised of more than 500 companies, giving them strong, positive regulatory and legislative influence for the truck leasing and renting industries.
TRALA bestowing Tom with the Steve Lawrence Legacy Award is an extraordinary honor. The award was named after one of the organization's eight founding board members, which was founded 1978. TRALA created the award to recognize Lawrence's more than four decades of service to the industry and subsequently to recognize individuals who have made a significant and enduring impact on TRALA and, subsequently, the truck leasing and rental industry, like Tom Fleming, who also has been at it for more than four decades.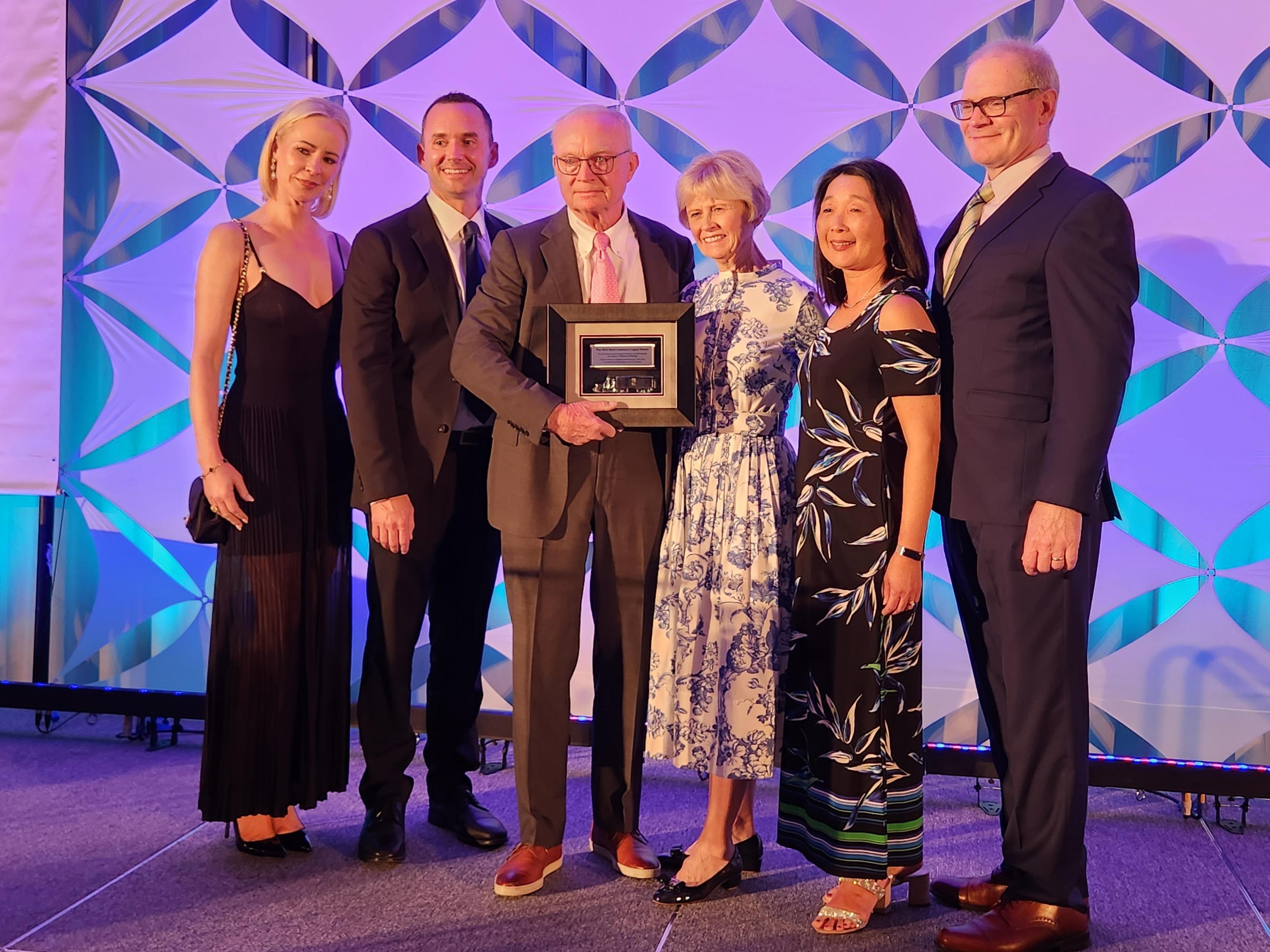 Tom Fleming poses with the TRALA Steve Lawrence Legacy Award next to his wife, Mary. To the left of them are Geoff Fleming, Aim Co-President, and Tom and Mary's oldest daughter, Lori; and to the right are Dan Fleming, Aim Vice President of Sales Operations, and his wife, H.J.
"Tom has been involved with TRALA for more than 40 years," said TRALA President and CEO, Jake Jacoby. "He has served on the Board of Directors for many years, both as Chairman and in leadership roles throughout his tenure on the Board.
Tom has been instrumental in his dedication to our industry and to TRALA through his work in supporting key initiatives such as TRALA's scholarship program, Legal Action Fund, congressional fly-in event, and political action committee known as TRALAPAC. He has been a leader for TRALA while maintaining an extremely kind and collaborative demeanor, which has helped foster such a fantastic comradery amongst TRALA Board members."
Tom's impacts reach far further than just the industries Aim Transportation Solutions serves. For as long as Aim has been around, Tom has been as committed to his customers as he has helping and enriching the community.
A major way Aim gives back has been through a decades-long relationship with the United Way. Throughout this partnership, Aim has contributed time, money and resources to several community-enriching campaigns, such as fundraising events, monthly payroll contributions, community clean-up initiatives, distributing food to families in need, children mentorship programs and more.