For decades, Aim has been committed to making positive, long-lasting impacts in the areas where we live and work, donating time, money and resources to community-enriching campaigns, such as those led by the United Way.
And sometimes Aim finds some rather unique ways to give back, like this most recent one that involves a retired Broadway set, 340 miles and a $1 fee.
The drama club at Austintown Fitch High School, near Aim's headquarters in Youngstown, OH, had been gearing up to put on Legally Blonde: The Musical, the stage adaptation of the popular 2001 movie Legally Blonde. This stage rendition had a year-long run on the renowned Broadway stage in 2007. New York's Broadway is, of course, one of the world's ultimate destinations for live theater, so you can imagine the drama club's excitement when they discovered one of those retired Broadway sets was available for rent.
But there was a problem. The set was sitting in Columbus, OH, roughly 170 miles away, and transporting it to Austintown was going to cost the school a steep $4,000. Thankfully, though, that's where Aim Senior Talent Management Trainer, Molly Julian, enters the scene.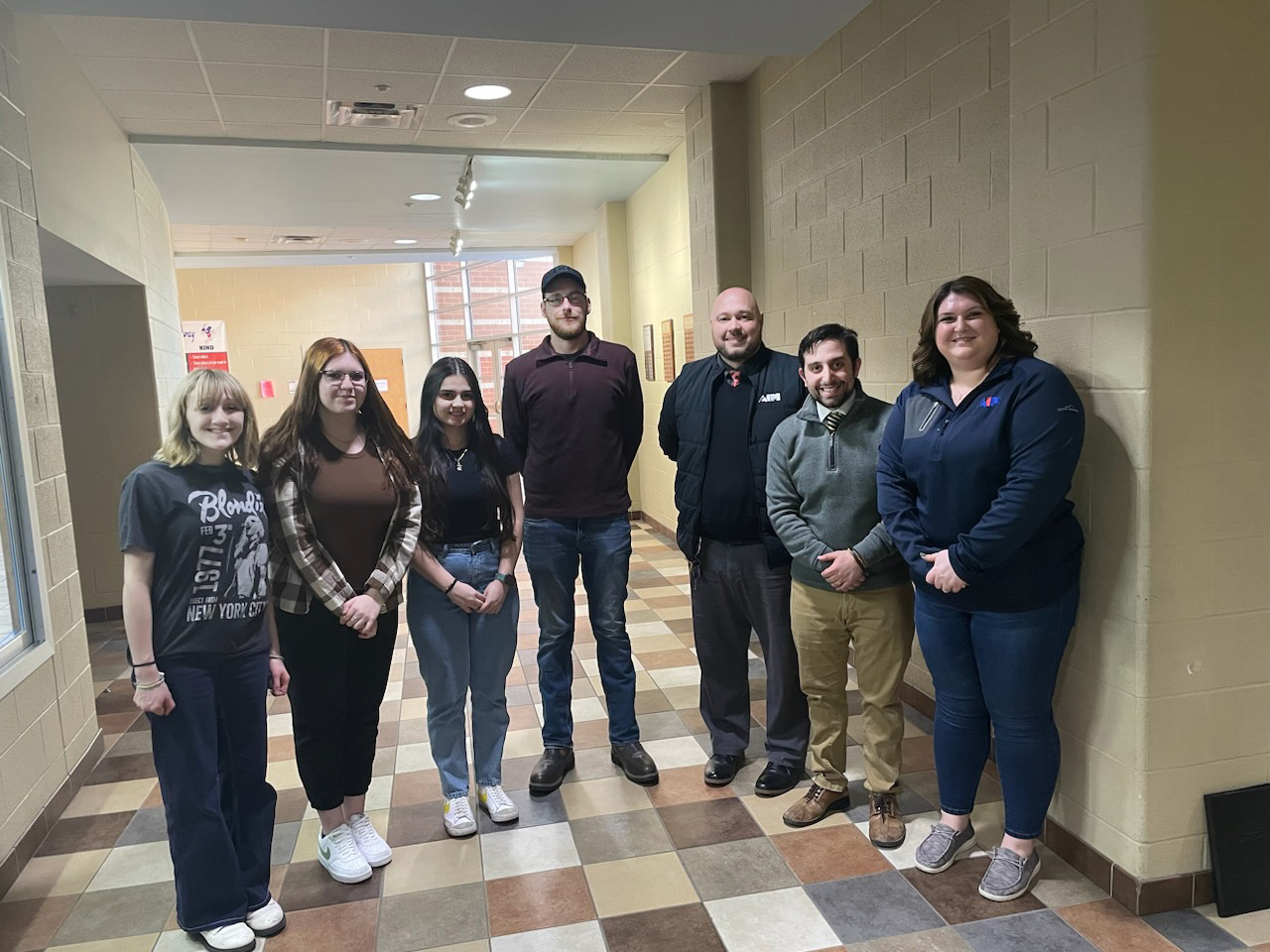 Pictured (l-r): Austintown Fitch High School students Natalie Ciccone, Sam Smith and Elena Arroyo; Aim driver Robert Wojtczak; Aim Regional Field Manager, Ralph Wilson; Austintown Fitch High School Theatre Director, William Klein; and Aim Senior Talent Management Trainer, Molly Julian.
Molly, who attended Austintown Fitch High School, is best friends with the wife of the school's choir, band and theatre director, William Klein. He mentioned to Molly the predicament they were in with the Broadway set. Molly knew just what do. The next day, she explained the situation to Tom Reda, Senior Vice President of Business Development for Aim Integrated Logistics, the division of Aim offering dedicate fleet and other third-party logistics services, and he jumped at the chance to help.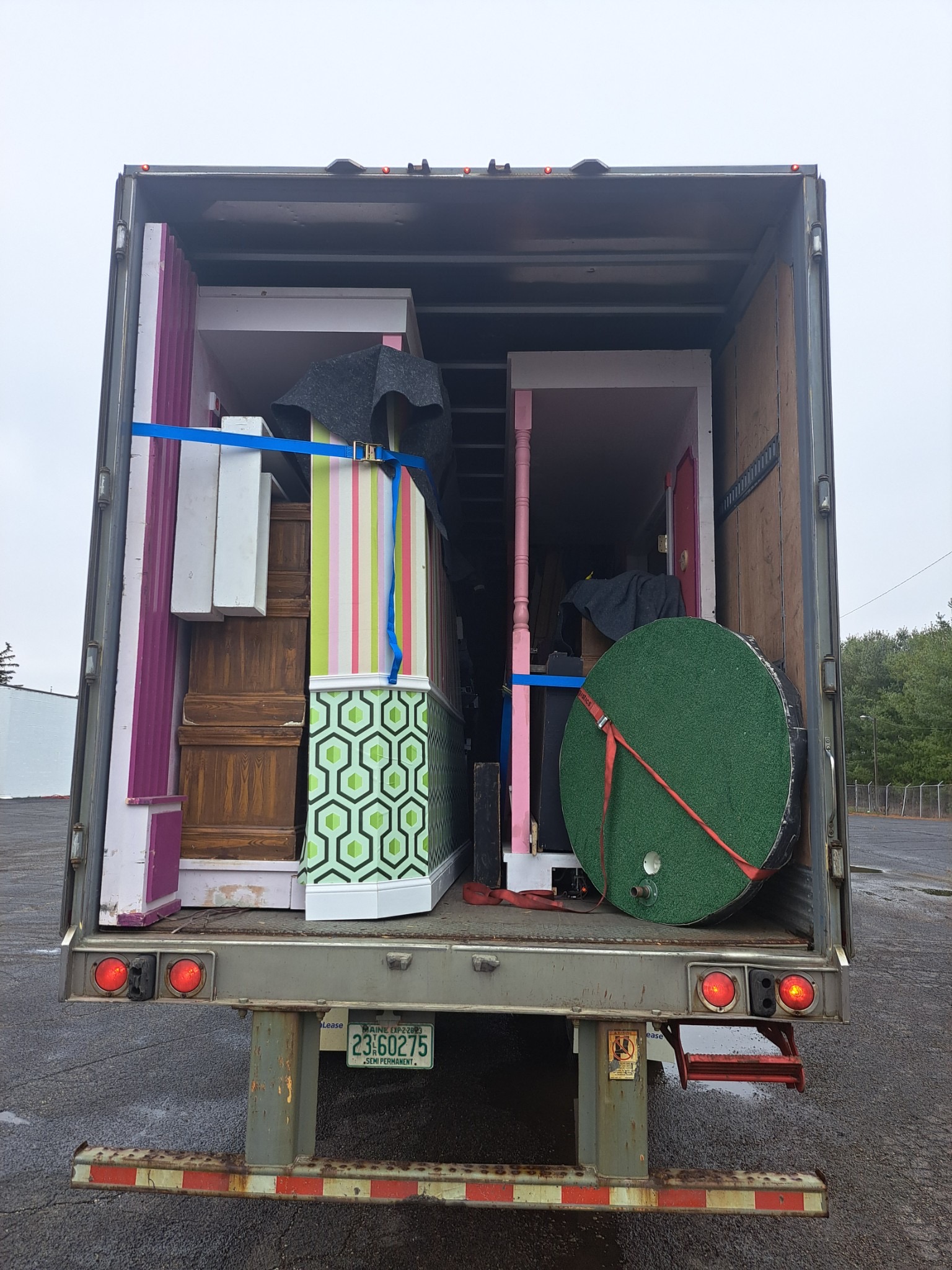 "This was right in our wheelhouse: transportation is what we excel at, and we love giving back to the community," said Tom Reda. "We were truly thrilled and honored to take on this project, especially knowing how much this play and performing in front of that Broadway set meant to those kids, and hats off to everyone involved for their efforts in managing the logistics and executing this move."
At a flat rate of a whopping $1.00—that's not a typo—Aim agreed to pick up and return the retired Broadway set, and Aim driver Robert Wojtczak, who also just so happens to be an Austintown Fitch High School alumni, hopped in an Aim truck for the 340-mile round trip to Columbus and back.
Robert delivered the precious cargo to the high school on March 17, leaving plenty of time for set up and rehearsals ahead of the shows running March 30 - April 2.
This isn't the first time Aim has put rubber to road in service of the community. About a year and a half ago, Aim volunteered to make the long haul to New York to pick up a statue immortalizing the "Handshake for the Century." On one end of that monumental handshake was professional baseball player and Youngstown native George "Shotgun" Shuba. On the other end was none other than Hall of Famer Jackie Robinson, the first African American to play Major League Baseball.
Aim delivered the statue to Wean Park in downtown Youngstown, where the monument stands today, honoring the area's connection to George Shuba, whose seemingly small gesture had a colossal impact in helping break down baseball's color barrier and advancing the civil rights movement.
The drama club's shows were a huge success, and the Broadway set wowed the audience, but not as much as the performances of all the talented actors and everyone working behind the scenes who injected life into the scenery.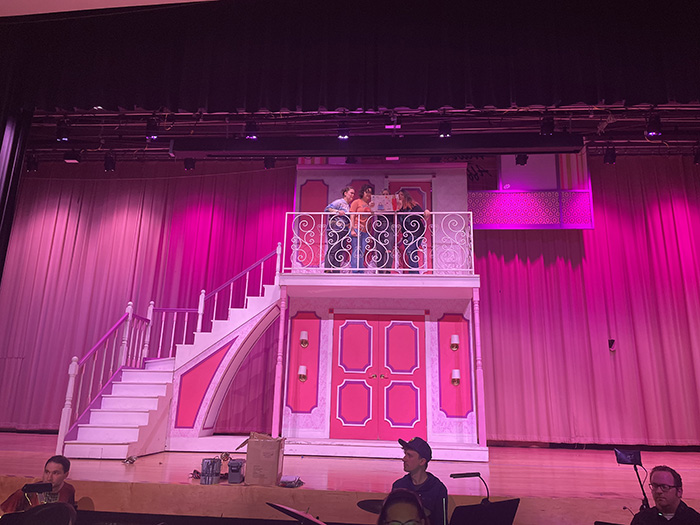 The Broadway set in action during Austintown Fitch High School Drama Club's performance of Legally Blonde: The Musical.
Now, with the show wrapped, Aim will return the Broadway set to Columbus.
"The Fitch High School Drama Club is beyond grateful for the generosity of Aim," said William Klein. "They have helped create a theater experience for the kids at Fitch that can't really be explained in words. We appreciate the partnership and look forward to working with them again."