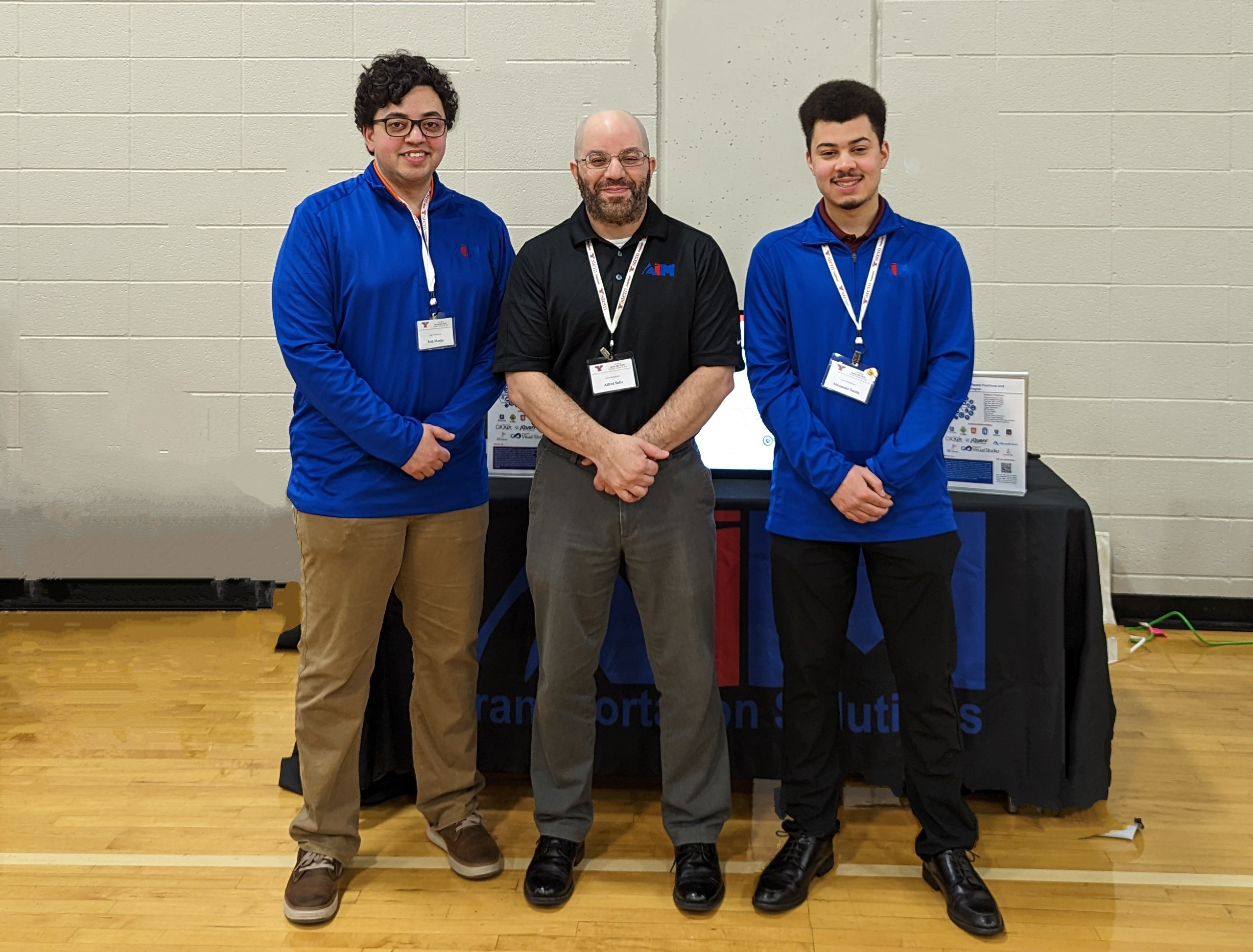 Youngstown State University held its annual STEM Expo on February 23, 2023. This event was hosted by The College of Science, Technology, Engineering, and Mathematics (STEM). YSU holds this expo twice annually and it gives students and employers a great way to get to know one another and talk about job opportunities in the local community. 
There were roughly 120 employers that gathered to meet prospective interns and employees. As many as 800 undergraduates, graduates, and alumni attended this year's expo. Dan Kellgren, VP of Software Development, led Aim's team at this event. 
Aim partners with YSUs STEM program to recruit Computer Science students for internships. These internships provide the students with real-world, hands-on experience they can carry throughout their education and future employment. Our internship program also provides Aim the opportunity to spot top local talent and potentially recruit these students into our staff. Software development team members Jon Brown, Alexander Smith, and Quintin Stearns are examples of this success.
To stay ahead of the ever-evolving transportation industry curve, Aim employs a staff of highly specialized programmers, database administrators, project managers, security specialists and quality assurance professionals. These specialties work in tandem to develop cutting-edge industry software that benefits Aim and its valued customers. 
Having such a diverse, dedicated team also means Aim doesn't have to manage technology at scale. This allows Aim to cater to the individual needs of its large and varied customer base. This ability is one of the fundamental qualities that gives Aim a distinct advantage over its competitors who may be using "off-the-shelf" solutions. It also allows Aim to give its employees greater access to company resources using modern and familiar interfaces. 
YSU's STEM program has quickly become a leader, certainly in the Mahoning Valley, at producing well-educated and prepared engineering and software development candidates. Because of that, Aim maintains a close, mutually beneficial partnership with the university.  Aim has also participated in YSU's career days - when local high school students tour the college campus and meet local employers. 
Kellgren noted, "The STEM staff does an excellent job at welcoming and coordinating local businesses to connect with the student population. YSU is producing well-prepared candidates who seamlessly integrate with our technologies and structures. Many of our current staff members started as interns and have now become full-time professionals with us, which speaks to their success stories." 
Being a part of the YSU STEM Expo is a great way for Aim Transportation Solutions to engage local talent. For more than 40 years, Aim has been adding jobs with great pay and benefits to the Mahoning Valley, and for those four-plus decades, Aim has relied on local talent to fill those positions, like YSU graduates. 
For anyone looking for a rewarding, long-lasting career, Aim, family-owned-and-operated, is continuously growing and adding new positions in the Youngstown area as well as throughout the nation. To view employment opportunities at Aim, click here.